Commercial Flat Roofing
Westfall Roofing provides the highest quality, dependable commercial roofing services in the Tampa Bay & Sarasota Area. Our team of skilled and experienced roofers conducts inspections, detects and repairs leaks, replaces your commercial roof, and provides other services specific to low-slope commercial roofing needs.
We understand how critical it is for your commercial building to have a sturdy and durable roof protecting it from water, wind, and other elements. To help you accomplish your business goals, we offer the following commercial roofing services.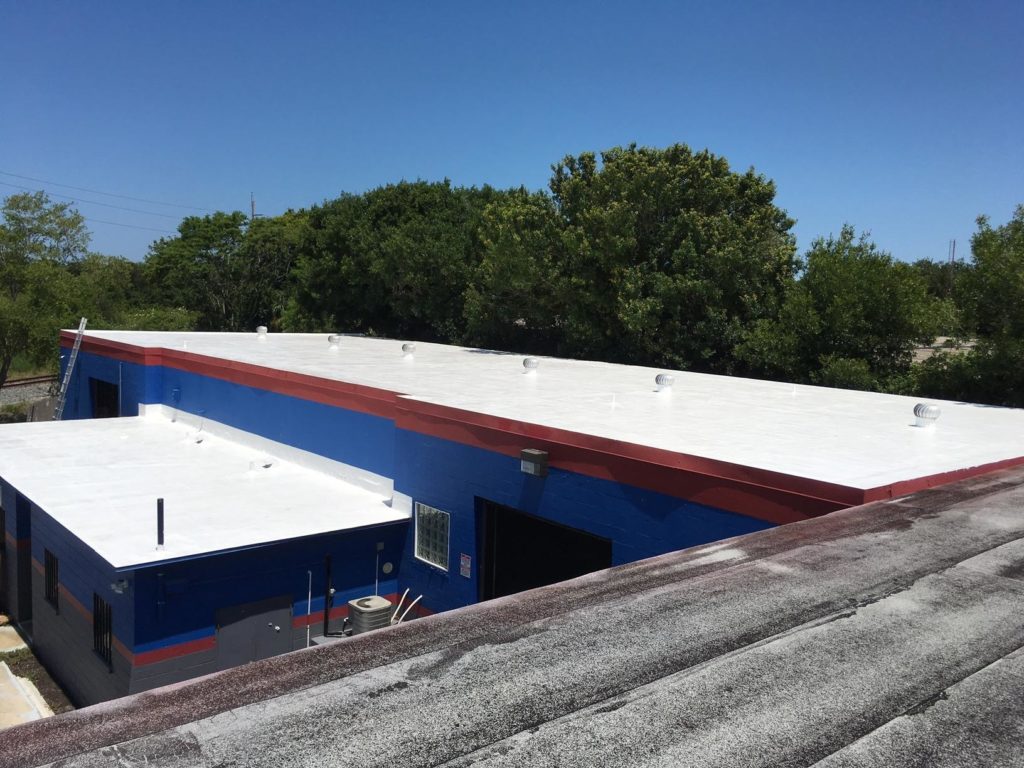 Commercial Low-Slope or Flat Roof Replacement
If your flat or low-slope commercial roof has suffered severe damage or is just near the end of its lifespan, replacing it might be your best option. At Westfall Roofing, we provide reliable and cost-effective commercial roof replacement services. Our experienced team of consultants will help you determine which roofing materials suit your building best.
We only use dependable, high-quality materials and work with great efficiency to ensure your business continues with its normal operations as soon as possible.
Commercial Roof Leak Detection and Repairs
When leaks go undetected, they can become a major problem costing your business a lot of time and money. We can assess your low-slope commercial roof for leaks and perform any necessary repairs to prevent water damage or structural damage.
When you have an old roof showing signs of wear and tear, or a roof damaged by a storm, we can provide you with timely repairs. Our roofers have the experience and skills required to do a broad range of commercial roof repairs.
Commercial Roof Inspection
We perform thorough roof inspections to check for early signs of damage or other potential issues with your roof. These inspections help prevent minor problems from turning into massive damage, costing you a lot of money to repair down the road.
Commercial Flat Roofing Systems
Choosing the right roofing material for your commercial building can be overwhelming if you don't know a lot about roofing systems. Westfall Roofing is here to guide you through the process of choosing the ideal roofing option for your commercial building. We specialize in the installation and repair of the following roofing systems:
TPO (Thermoplastic Polyolefin): TPO is a highly durable, cost-effective, and easy to install commercial roofing material. The material is chemical-resistant, heat-resistant, and energy-efficient, which provides continuous savings to your business.
Modified Bitumen: Modified bitumen roofs for low-slope commercial buildings are made of durable asphalt products which last for 20 years or more. These roofing systems are resistant to leaks and damage from hail storms, fire, and high winds.
Metal Roofs: Metal roofs are a popular choice for steep-sloped commercial roofs. These roofs have multiple important benefits, such as high durability, energy efficiency, and low maintenance needs. They are also highly resistant to fire and can last for decades.
We only use high-quality materials from leading manufacturers such as GAF, Owens Corning, PolyGlass, and CertainTeed. For steep-slope commercial roofs, we can use asphalt shingles, tile, metal, and cedar shakes or shingles.
Our Low-Slope Roof Replacement Timeline
At Westfall Roofing, we schedule professional inspections and issue detailed estimates within 1-2 weeks lead time. When you agree to work with us and sign a contract, we can complete permit paperwork and other preparations in 1-2 weeks, depending on the scope of your project.
The overall time it takes to schedule your roof repair or replacement job will typically depend on the complexity and size of the commercial project. However, our experienced roofing specialists will keep you updated every step of the way. Contact us today to schedule your free roofing inspection!